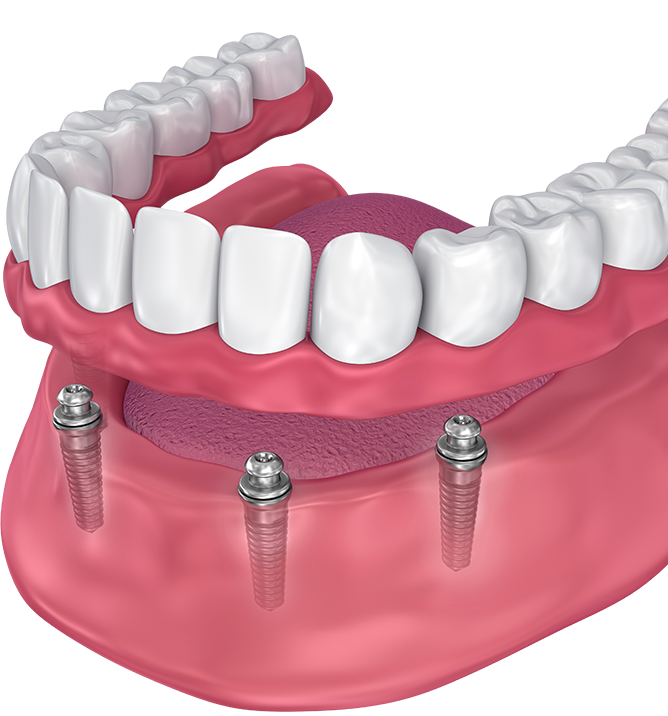 All-on-4 Dental Implants
Are you missing most or all of the teeth in your upper or lower jaw? If so, you might have considered an implant-supported denture.
Our Flushing, NY, practice offers All-on-4® dental implants. This solution can support a full-arch denture using only four implants.
What makes All-on-4 a great choice for many of our patients?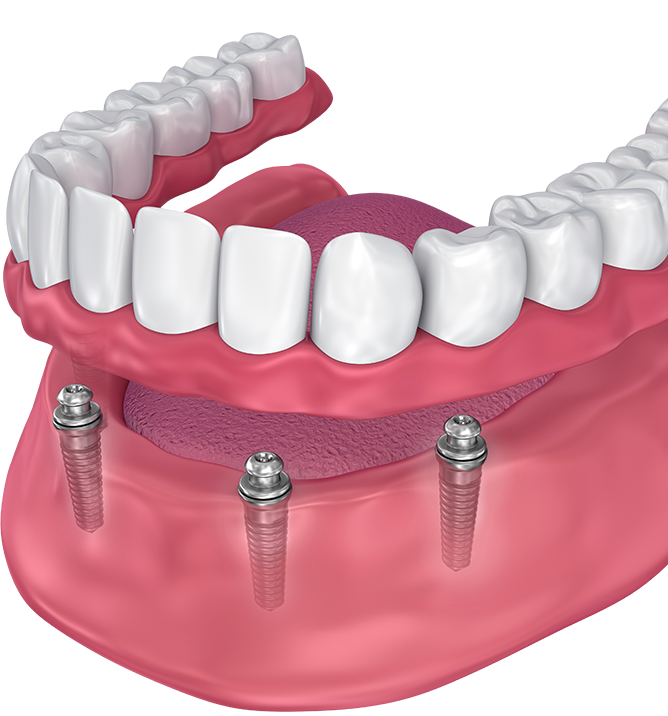 Experience the Benefits of Dental Implants
with a Cost-Effective, Efficient Treatment Option
Expedited Treatment Timeline
Dr. Feldstein will place posterior implants at a 45-degree angle for maximum surface contact with bone tissue. This often allows patients to skip preliminary bone grafting. All-on-4 implants can immediately support a denture, so you won't have to go without teeth while you heal.
Comparatively Lower Cost
A simple All-on-4 case with no extractions or provisional dentures will cost about $18,000, which is less than the cost of restoring a dental arch with standard implants. This is largely due to the fact that All-on-4 requires fewer implants. However, preparatory procedures, temporary dentures, and the need for more implants can increase the cost of your treatment. To help you pay for dental care, we accept CareCredit® financing, insurance, and credit cards.
Most All-on-4 Patients
Give Rave Reviews
Missing an Entire Arch?
All-on-4 May Be Right for You
The All-on-4 technique is specifically designed to treat patients who are missing most or all teeth in one or both dental arches, often without the need for bone grafting.
If you initially considered traditional implants, but were told that you would need preliminary bone grafting, All-on-4 may be a faster track to a restored smile.
Good Candidates for All-on-4
at Our Flushing Office Should:
Be In Good Oral Health
Besides missing teeth, you should have no oral health issues such as decay or gum disease. These conditions can increase the risk of implant failure and will need to be resolved in preparation for All-on-4.
Have a Healthy Jaw
After losing a tooth, your jawbone begins to atrophy, or shrink. While patients who have experienced a small degree of atrophy can usually undergo All-on-4 without needing a bone graft, those who have experienced significant tissue loss may need a preliminary procedure to replace lost tissue.
In Good Overall Health
You should be healthy enough to undergo surgery. Stop unhealthy habits like smoking, which can complicate your surgery and recovery. Autoimmune diseases such as diabetes must be controlled before undergoing surgery.
We Can Customize
Your Treatment to Your Needs
Dr. Feldstein can provide other types of restorations to fit All-on-4 implants. If you have some remaining healthy teeth, a special restoration can be made just to replace the missing teeth.
In addition, we offer certain types of removable restorations. Our Flushing office can provide everything from simple, complete dentures to mixed crown and bridge cases with some implants to provide exactly the restoration you need.
Making Patients Smile
for Over 35 Years
Many patients choose Dr. Feldstein because of his extensive experience placing implants. He began practicing implant dentistry over 35 years ago, shortly after graduating dental school. Since then, he has placed over 4,000 implants and is highly trained in the latest techniques, including All-on-4.
When planning every dental implant treatment plan, Dr. Feldstein uses advanced technology including digital X-rays and intraoral photography to ensure precise and beneficial outcomes.
The Typical
Treatment Timeline
Although the specifics of your procedure at our Flushing practice will depend on your unique case, here is what you can typically expect from start to finish:
Immediately
after Surgery
In the days following surgery, you should:
Rinse with your mouth with warm (but not hot) saltwater throughout the day
Brush carefully around your implants
Attend your scheduled follow-up visits
Take your antibiotics as prescribed
Stick to a soft food diet for the first few days
While some patients can return to non-strenuous work after a few days, others may require more downtime.
Getting the Most
from All-on-4
When you receive your final restoration, you can care for your denture the same way you would care for your natural teeth. Although your denture may eventually need to be replaced, the supporting implants can last the rest of your life with proper care.
Dr. Feldstein can also assess the integrity and condition of your implants and denture during your checkups. We recommend twice-yearly exams for most patients, but you should visit Jewel Dental Associates in Flushing more often if you are diabetic or have other health conditions that can increase your risk of oral health issues.
"The run-of-the-mill dentists could inflict great pains to you when they fail to do your implant(s) correctly. Dr. Feldstein is an outstanding and compassionate dentist. Visit his office and just relax. He will take good care of you. You will be surely satisfied..."

T. Zhou
Dr. Feldstein has been placing dental implants for over 30 years. In that time, he has placed over 4,000 implants. Dr. Feldstein is a member of several prestigious organizations, including:
American Dental Association
New York State Dental Association
Queens County Dental Society
American Academy of Periodontics
For more information about the incredible results provided by dental implants, contact our office online or call (718) 261-7071 today.